Katy Sprinkler Repair & Drip Irrigation
Katy Sprinkler Repair specializes in residential and commercial sprinkler systems, and no matter the time of year, we provide maintenance for your lawn irrigation system.
Our trained and licensed technicians are ready to professionally address your sprinkler issues. Our work speaks for itself.
Residential and Commercial Sprinkler Repair Services

Katy Sprinkler Repair Keeping Katy, Texas Green and Beautiful
Katy is a beautiful city. It's perfect for families, couples, and seniors because of all the fun activities and
events the area provides residents. As a local lawn sprinkler repair company, our work is highly
rewarding because we know we contribute to the beauty in our area.
Most homeowners and business owners have a sprinkler system for their yard. Without one, owners
would have to hand water their lawn, and most people do not have time for that chore. Leaving the
lawn at the mercy of rain storms will quickly turn it brown and unattractive.
As you drive around the city, you probably have noticed the nicely landscaped lawns that are lush and
green. The next time you're around Cinco Ranch, Grand Lakes, or Power House Church, just notice
the beauty of the lawn. None of that could be possible without a properly operating sprinkler system.
We often receive calls from homeowners and business owners for irrigation repair.
Our sprinkler repair services are affordable, and we can fit in appointments at the last minute. We know
it's important that your lawn receives its daily watering, and we don't want to risk the health of your
lawn by allowing it to suffer under the hot Texas sun.
Many people call our local lawn sprinkler repair company to ask if we can repair a certain type of
sprinkler system, and the answer is almost always yes. Even if you have drip irrigation, which is one that
many other sprinkler repair companies won't repair, it isn't a problem for us.
We Are One of You
Our mission as your Katy sprinkler repair company is to help you keep your irrigation system functioning
optimally all year long. In addition to this, we want you to know that we are not a faceless company. We
are one of you. We love Katy. Our kids go to Katy High School. Woodcreek Elementary and Katy Elementary, and
our teens go to Faith West Academy and KHS (GO Katy Tigers!). We dine at Perry's Steakhouse & Grille and LaCenterra at Cinco Ranch.
Überrito Mexican Grill La Centerra and our bellies confirm it. Of course, we also enjoy spending time playing golf at Meadow Brook Farms Golf Club and The Club at Falcon Point.
As you can see, we are out and about in Allen because again, we are one of you. We've built a
reputation among residents that makes us proud. The reason for that is because our sprinkler repair
company is honest, affordable, and available whenever people need us. We provide a service, and we
do it in a way that makes people comfortable and satisfied.
Contact Us at 832-648-3800 for Sprinkler Repair Services
Whether you're just getting a sprinkler system installed in your new home or have had one for years,
give us a call to introduce yourself. Chances are, we already know each other through some connections
in Allen. Getting to know you is the first step, and then we can put you in our system for when you need
irrigation repairs.
If you have a malfunctioning sprinkler system now or you're not sure if it's functioning efficiently, give us
a call to schedule a time for us to come out to your home or office. We'll be glad to help.
We look forward to becoming your sprinkler repair company in Katy and your friend as we see you
around.
▪Sprinkler control box replacement and repair
▪Fix or replace broken or leaking sprinkler heads or valves
▪Clean and repair clogged nozzles
▪Replace and repair damaged or faulty wires
▪Repair or replace broken pipes
▪Cap off sprinkler heads as needed
▪Adjust poor spray patterns to prevent wasted water
▪Wire/valve relocation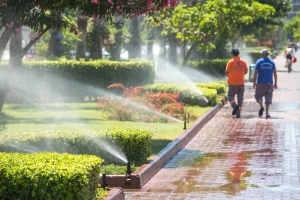 Better Katy Residential Sprinkler Repair
Since 1999, Katy Sprinkler Repair has offered outstanding residential sprinkler repair services.
Every homeowner who invested in a sprinkler system knows the value to the health and beauty of their yard. They also know maintenance and repair are inevitable requirements. Equipment ages, breaks, leaks form from cracks in piping, or how easy it is to cut the grass and clip a sprinkler head.
Our full crew of skilled technicians is ready and waiting to tackle any sprinkler repair you may present. As our technicians are equipped with the latest tools and training, we make repairs look easy.
One call to Katy Sprinkler Repair and your landscape will be fixed to flourish!
Katy Commercial Sprinkler Repair

Every business owner knows any commercial property with a pristine landscape, sets the initial impression of customer or future tenant alike.
Any number of simple maintenance issues could jeopardize that first good impression. But a call to Katy Sprinkler Repair will set us in motion, to fix that wayward sprinkler system, and restore your lawn to lustrous health. First impressions are simple to ensure, so hard to repair.
To Katy Sprinkler Repair, your local business is our local business, so let us ensure your property's sprinkler system is functioning correctly. Call us to fix the problem while we suggest you take a break at our town's treasure Cavanaugh Flight Museum or plan an outing at Historical Downtown Katy with a fun day for the family.
The Highest Service
Katy Sprinkler Repair promotes its business on providing premium sprinkler repair throughout the Katy area for homeowners and commercial property owners. Our reputation precedes us for being passionate at delivering high-quality service, taking that extra step to prevent potential problems, and all at affordable pricing. Scheduling a licensed technician is easy and our team works efficiently to resolve your problem as timely as possible.
Typical Irrigation Problems:
▪Sprinkler spray heads are set down, not spraying above the grass line.
▪Sprinkler spray heads are spraying areas that don't need water.
▪Zone valves are leaking or not closing properly, leaving water build-up around the spray heads or rotor heads.
▪Zone valves that are old and don't turn on or don't shut off.
▪Controller box or timer does not work properly because of poor wiring, a bad battery, or a faulty zone valve.
▪PVC pipes cracking or bursting underground.
If you suspect a leak or some other issue, call us right away. We will come to inspect your system, locate the source of the problem, and fix it quickly. Put our specialists at Katy Sprinkler Repair to work for you, and get the resolution done the right way.
Katy Landscape & Lawn Lighting
Landscape Lighting In Katy
Outdoor Lighting for Beauty and Safety
When you spend time in the yard, you will need adequate outdoor lighting to illuminate and enjoy your landscape. If you are entertaining family and friends after dark, then exquisite lighting is preferred.
Whether you're relaxing outside on your patio, around a pool, in a garden or you want to spotlight your favorite trees, shrubs, or unique landscaping, the right outdoor lighting can make all the difference, by adding to or accenting the beauty of your home.
A deck or patio need not be neglected after dark with outdoor lighting available. After a long day at work, the soft ambiance of light on a deck, patio or pool is rather relaxing, wouldn't you agree? Be sure to install LED yard lighting, which is less likely to attract mosquitoes than incandescent lights.
From the home entrance to the sides and the backyard, adequate lighting for safety and security is a must in this day and age. Since evenings are prime time for summer entertaining, lighting is an essential safety measure, so guests can avoid potential dangers such as stairs, walkways, pools, and other tripping hazards. Simply stated, lights provide a safer outdoor living area. A well-lit exterior is a psychological deterrent to burglars and that bad element alike. Again, lights provide a safer outdoor living experience.
And finally, outdoor lighting enhances the appeal, beauty, and value of your home. Everyone notices a house accented in elegant light, come nightfall. It renders the home like a piece of art, don't you think?
Remember the Benefits of Lighting:
▪Safety
▪Security
▪Improved value of the property
▪Enhances beauty
▪Improves outside living
Katy Sprinkler Repair will start the process by walking the property with you, detailing all the landscape features and areas that need proper lighting. Our estimate is free and we have a variety of high quality lighting fixtures to choose from. Rest assured, our professional team of technicians are trained in the product specifications for all of the fixtures we supply, including all electrical installation techniques. As such, we adhere to all the safety compliance standards for both residential and commercial lighting design. Once installed, we offer Service Checkups to ensure everything is working correctly.
Regardless of the purpose, there are many positive benefits to having outdoor lighting. From implementing safety and security to adding style and beauty, outdoor lighting offers both aesthetic and functional benefits to your home. Call our lighting design experts, and we'll meet with you to determine which outdoor lighting products will best meet your needs and help transform your yard into a beautiful, secure place.
Remember Katy Sprinkler Repair…
You are in good neighborly hands!